The Tampa Bay History Center is more than a mere repository for historical facts. Functioning as a liaison between the past and the present, the museum honors our community's character and heritage, stirring the spirit of adventure found in all its visitors with the generations of stories it has to tell.
Step inside the 60,000-square-foot History Center in Tampa's bustling Channelside District and take a journey through 12,000 years of powerful stories. Follow in the footsteps of the first native inhabitants, Spanish conquistadors, pioneers, sports legends and railroad tycoons. During your journey, you will stroll through a 1920s-era cigar store, row up the Hillsborough River, ride along with a cattle drive and learn about the early exploration of Florida in a dramatic theater presentation.
Explore exhibits about the places and people who shaped the Tampa Bay area. The waterfront History Center boasts a stunning atrium, interactive and immersive exhibits, theaters, map gallery, research center, event hall, an eclectic Museum Store and the signature Columbia Cafe. The history of the Tampa Bay region comes alive within these walls.
The Tampa Bay History Center is a non-profit educational institution in downtown Tampa, Florida that seeks to preserve and teach the remarkable history of the Tampa Bay area. The Tampa Bay History Center is a 501(C)(3) non-profit corporation and is funded in part by: Hillsborough County Board of County Commissioners and The City of Tampa.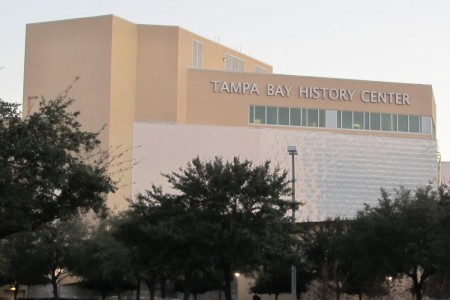 SYCC Pages
OCCYC Pages
EYCC Pages
JBYCC Pages
Map
BTYCC Gallery
EYCC Gallery
EYYCC Gallery
FEYCC Gallery
FF Gallery
OCCYC Gallery
TYCC Gallery
WIPNC Gallery