A hands-on outdoor day of fun for the whole family.
"I loved everything about our visit. The activities were so fun and the staff were super nice and really helpful. I would absolutely come again." -Revell Family
Joe Budd Youth Conservation Center is open to private, staff-guided recreation + education trips for families of up to eight people. All trips are cost-free and available Mondays through Fridays from 10AM-2PM, September through December. Each family must pre-register for an available day to reserve their spot. One family per day.
Families may pick an activity they'd like to focus on for the day:
Pathway to water quality:
Kayaking + learning all about macro invertebrates, water chemistry, and the pond life-cycle
Pathway to wildlife discovery:
Archery + a half mile hike through our wetland trail, learning about native plants and animals.
Pathway to pond exploration:
Fishing + fish identification or fish dissection, knot-tying, and learning about the importance of fish in the pond ecosystem.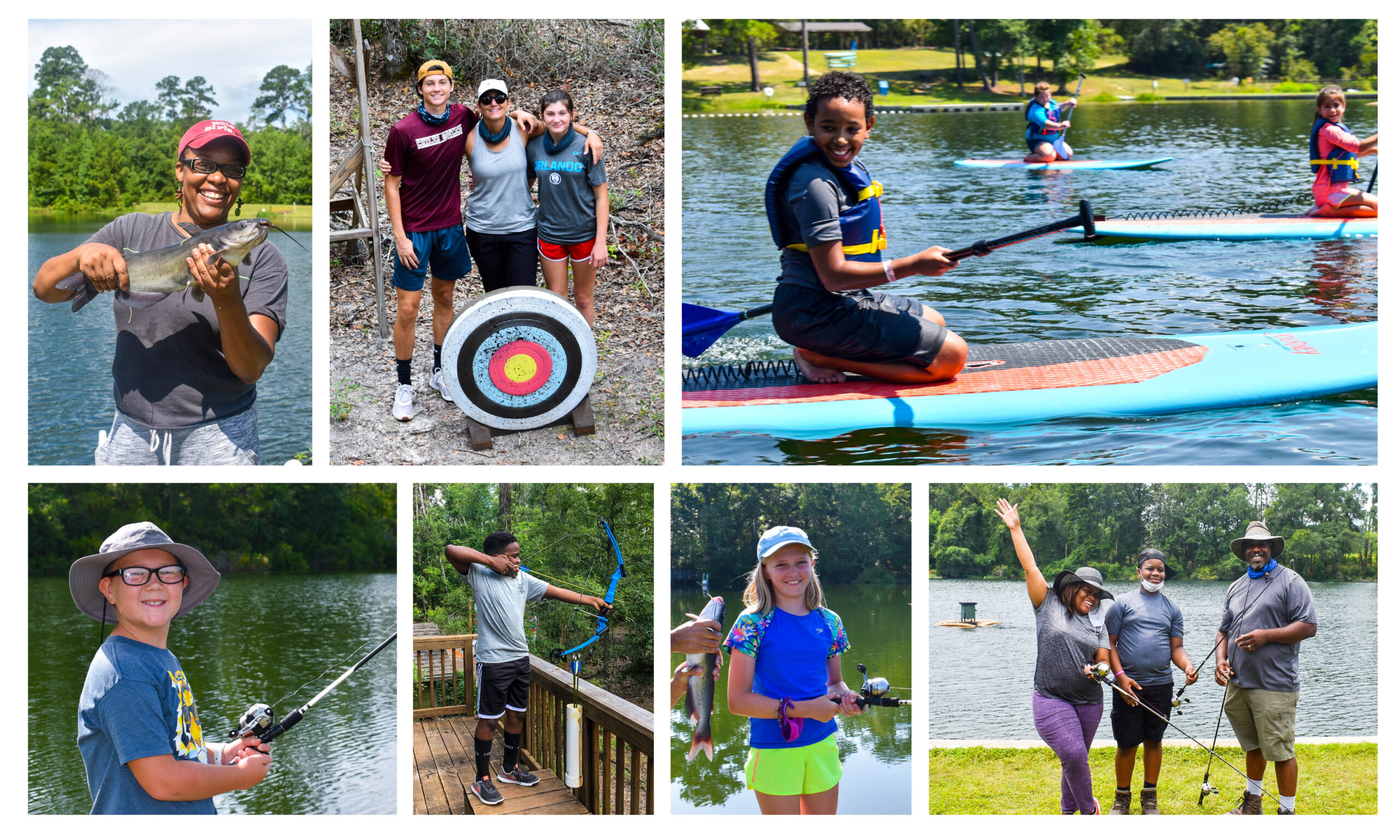 What to Bring
Please bring your lunch, snacks, plenty of water, sunscreen, and closed-toed shoes. Feel free to bring your own gear if you have it, but we will provide all the necessary equipment for your adventures, as well as a free bag full of outdoor-themed swag!
What Visitors are Saying
"This was amazing. My family truly enjoyed themselves. Joe Budd has great hospitality."
-Adkins Family
"The girls and I love everything about this experience! We will definitely be back soon! Everyone was so nice and knowledgeable and helpful. Such a wonderful team!!"
-Allen Family
"The team was great, encouraging and patient to teach us."
-Harris Family
"Kids had a great time and got a lot out of this experience! Appreciate the opportunity to do something during quarantine and that staff wears masks and distances. Very knowledgeable staff! Very positive staff! Can't wait for a reason to come back."
-Baco-Taylor Family
"I really loved the archery activity. This was a great experience for my family to help enlighten them about wildlife and habits."
-Sweet Family
"I really enjoyed the one on one focus with our family. We love the outdoors and sports. One of my favorite days of the summer and watching my child's reactions to the activities. He also enjoyed the goodies.".
-Auclair Family
"I ADORED kayaking and it would be cool if there were more activities you could do involving them! Fishing was fun and I really enjoyed it! The bass toy game we played was amazing and a great laugh! All the workers were SO amazing, I felt welcome right away, the bond they shared showed in a joyful way, it was like they were a big happy family!!"
-Revell Family
"By far the best part of the day was the people! Y'all did an outstanding job and were fun, helpful and knowledgeable! Thank you."
-Revell Family
"Everything was SO amazing! Staff was unbelievably helpful and informative! We will definitely be interested in doing this in the future."
-Revell Family
"I loved all of it. Honesty I don't think there is anything to improve on! The people here are amazing!!"
-Revell Family
"I loved everything about our visit. The activities were so fun and the staff were super nice and really helpful. I would absolutely come again."
-Revell Family
"Staff was incredible. So friendly and patient. This experience absolutely exceeded my expectations."
-Tuszynski Family
"Everyone was helpful, generous, kind to both adults and children. Great experience."
-Hughes Family
How to Reserve a Day
Spaces fill fast! Reserve a day for your family by contacting Director Meghann Dawkins at meghann.dawkins@myfwc.com or by calling Joe Budd Youth Conservation Center at (850) 933-4322.