About Us – Our Mission:
To preserve and maintain the native flora and fauna within the ecosystem. Instill knowledge and understanding of the interrelationships in the natural world with particular emphasis on water, wetlands and wildlife. Teach Stewardship and promote conservation of our natural environment. Central Florida's Trout Lake Nature Center is a 230 acre wildlife preserve located near the southern entrance to Ocala National Forest in Eustis, Florida, between the cities of Ocala and Orlando. The Center has a 1,000 foot long boardwalk extending into Trout Lake, with a pavillion on the lake. There are numerous interpretive trails including an Adenture walk with a swinging bridge and a picnic pavilion. The Charles Newell Hall and Museum serves as a museum/classroom and the Environmental Education Center housing an audio visual meeting room seating 125 people.
The entrance can be reached about 4/10ths of a mile east of the intersection of CR 44 and SR 19. Watch for our sign and entrance on the right.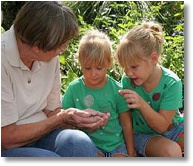 Partner Awards: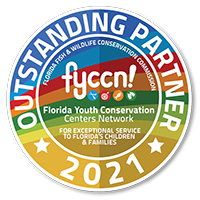 SYCC Pages
OCCYC Pages
EYCC Pages
JBYCC Pages
Map
BTYCC Gallery
EYCC Gallery
EYYCC Gallery
FEYCC Gallery
FF Gallery
OCCYC Gallery
TYCC Gallery
WIPNC Gallery