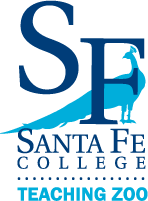 Santa Fe College's Zoo Animal Technology Program is the premier wild animal technology program in the United States. To facilitate the training of animal professionals, Santa Fe College (SF) has its own zoo, the Teaching Zoo, which is located on SF's Northwest campus.
Set in a naturally wooded environment, the 10-acre Teaching Zoo is a functioning zoo with a diverse collection of mammals, birds, reptiles and amphibians. Supervised by the professional staff of the Teaching Zoo, the students get hands-on experience in every aspect of wild animal care, from daily care to habitat construction and maintenance, and working with the public.
The zoo is open to the public and is visited by over 30,000 visitors each year. As a part of the training, students participate in giving guided tours to the zoo visitors. Also as a part of the training, students are required to participate in some weekend and holiday work as well as work between semesters.
SF's Teaching Zoo Program is a five-semester technical program that offers a wide range of practical instruction and clinical experiences leading to the Associate of Science Degree in Zoo Animal Technology. The program's curriculum is a series of sequential courses based on required professional competencies.
Partner Awards: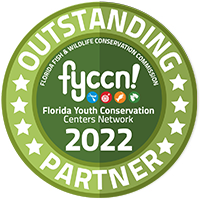 SYCC Pages
OCCYC Pages
EYCC Pages
JBYCC Pages
Map
BTYCC Gallery
EYCC Gallery
EYYCC Gallery
FEYCC Gallery
FF Gallery
OCCYC Gallery
TYCC Gallery
WIPNC Gallery