Big Bend Power Station in Apollo Beach delivered reliable electricity to the community for 16 years before the commercial operation of Big Bend Unit 4 in 1986. That year, people started seeing manatees in large numbers in the power station's discharge canal, where saltwater – taken from Tampa Bay to cool Unit 4 – flowed, clean and warm, back to the bay. When Tampa Bay reached 68 degrees or colder, the mammals would seek out this new refuge. The Manatee Viewing Center was soon born. Today, Big Bend's discharge canal is a state and federally designated manatee sanctuary that provides critical protection from the cold for these unique, gentle animals.
Hours: 10 a.m. to 5 p.m. daily
Open: Nov. 1 through April 15 (closed Thanksgiving, at 3 p.m. Christmas Eve, Christmas Day, and Easter)
Admission: Free
Parking: Free
Inside the MVC's environmental education building, colorful displays immerse you in the world of the manatee and its habitat. Others show how Big Bend Power Station generates electricity for the community in an environmentally responsible way. See some of the power station's beneficially reusable byproducts. Inspect actual manatee bones and piece together puzzles. And before feeling the blast of a hurricane in the center's simulator, find out more about hurricanes and how Tampa Electric prepares for and responds to major storms.
Outside, stroll among award-winning butterfly gardens and Florida-friendly landscaping and see solar panels – the largest installation among Tampa Electric's photovoltaic arrays in the community. Track real-time output from the array inside the education building. You also can see a variety of native and coastal plant life as you stroll along the center's tidal walk. Catch a glimpse of animals in the wild that make the center's habitat their home.
At the southwest corner of the MVC's parking lot, across from the entrance for vehicles, your journey into nature continues through three habitats on a 0.8-mile trail, which features a wide variety of vibrant plant life that you can see up close. The trail is part of a larger plan underway to transform a former palm tree farm south of the MVC into a new conservation and technology park, a partnership between the Florida Aquarium, the Florida Fish and Wildlife Conservation Commission and Tampa Electric that will become a showcase of environmental stewardship. When completed, visitors will have another free environmental resource to explore, one that will feature an energy technology center, a center for conservation, a fish hatchery, an educational facility, catch and release fishing programs, waterways for kayaking and more.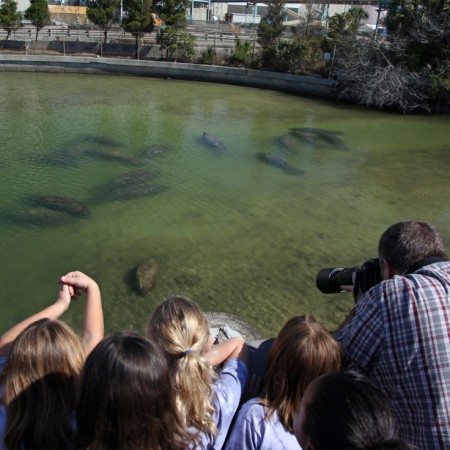 SYCC Pages
OCCYC Pages
EYCC Pages
JBYCC Pages
Map
BTYCC Gallery
EYCC Gallery
EYYCC Gallery
FEYCC Gallery
FF Gallery
OCCYC Gallery
TYCC Gallery
WIPNC Gallery