Big Cypress National Preserve is 729,000 acres of swampland in south Florida. A unit of the National Park Service located in Eastern Collier County, it is part of the Everglades ecosystem and a critical watershed for the Ten Thousand Islands area to the southwest. It is a diverse wild area of cypress swamps, prairies, pinelands, hardwood hammocks, and is home to a variety of wildlife including the endangered Florida Panther. Incredible wildlife viewing opportunities, canoeing, hiking and biking are just some of the activities available during the winter months in the swamp.
Big Cypress National Preserve's curriculum based Environmental Education program, S.W.A.M.P. (swamp water and me program), is provided to nearly 3,000 6th grade science students and their teachers in the Collier County Public and Private Schools each year. First all students are visited in the classroom by a ranger for the pre-site program to help prepare them for the field trip. Then each class visits the preserve for the all-day field trip to become S.W.A.M.P. Scientists. Students use a variety of scientific equipment to perform hands on experiments, make observations, and collect data on animals, vegetation, water, soil and weather while exploring three habitats. All data the students collect is used in activities back in the classroom in follow up activities.
Outreach programs are provided in the preserve and in neighboring communities for nearly 7,000 participants each year. The participants are members of organized special interest groups, adults and children of all ages from a variety of cultural and socio-economic backgrounds from Florida and around the world. These programs include wet walks, canoe trips, bike trips, interpretive programs and special events. Staff also provide a variety of trainings and participate in over twenty festivals
and special events in South Florida each season.
Through these programs we hope to foster an awareness of the importance of the South Florida Ecosystem that leads to stewardship of our natural areas.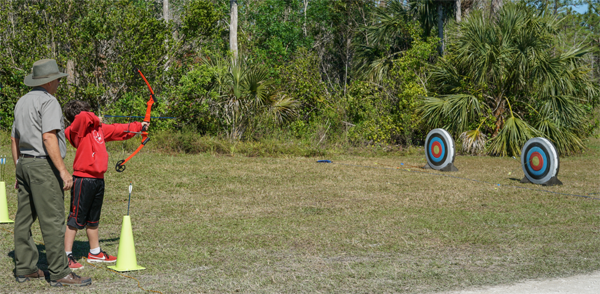 Partner Awards: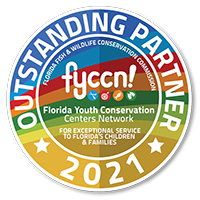 SYCC Pages
OCCYC Pages
EYCC Pages
JBYCC Pages
Map
BTYCC Gallery
EYCC Gallery
EYYCC Gallery
FEYCC Gallery
FF Gallery
OCCYC Gallery
TYCC Gallery
WIPNC Gallery