Meet the Team & Tour the Facility
Meet the Suncoast Team
Planning a trip to Suncoast Youth Conservation Center or getting ready for an exciting week of summer camp? Meet the team ahead of time!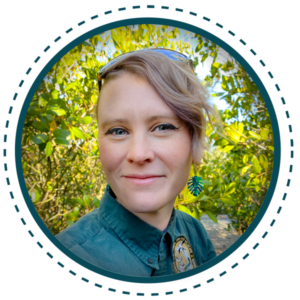 CANDICE WADE
director
Candice Wade began her career working in aquarium husbandry and caring for seahorses and sea dragons. While she loved working with animals, she also developed a passion for connecting the public to marine life. After obtaining a master's degree in marine conservation from University of Miami, she followed this passion into education. Candice's experience includes working in education and guest engagement in nature centers, zoos, and aquariums. With a background in conservation psychology and as a Certified Interpretive Guide through the National Association of Interpretation, Candice is especially interested in engaging audiences in ways that provide a lasting impact. It is her hope that our programming will inspire our guests to protect the resources we all share.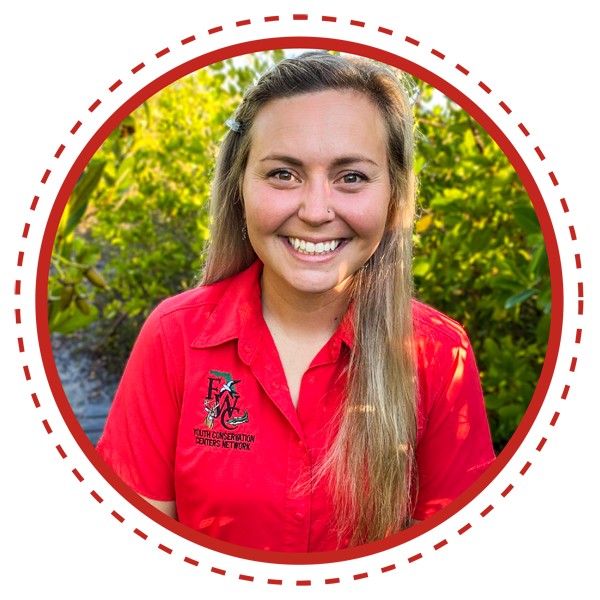 FAYE JOHNSTON
assistant director
Assistant director Faye Johnston loves educating students and their grownups through conservation-focused field trip and summer camp programs. She's been working in outdoor, experiential education for many years and finds the greatest fulfillment in watching students of all backgrounds experience Tampa Bay's wildlife and natural resources. When she's not at SYCC, Faye spends her time traveling, hiking, and indulging in the delicious food in her hometown, Tampa. She studied marine science at Florida Atlantic University and is currently working on her master's degree in fish, wildlife, and conservation biology from Colorado State University.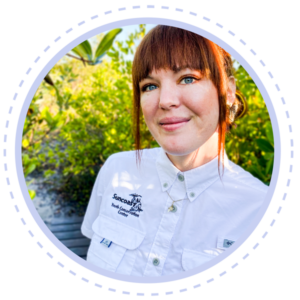 ALEXANDRIA BISHOP
education specialist
Originally from the small town of Bellville, Ohio, Alexx first pursued a degree in Biology at Ohio State University before transferring to the University of South Florida (USF) for Marine Biology. During her time at USF, she researched tropical marine ecology as a NOAA scientific diver on the fringing reefs of Curaçao. As an educator at SYCC, Alexx's goal is to use her voice, creativity, and passion for protecting the Rights of Nature to inspire a new generation of environmental stewards to act. During her free time, Alexx is a freelance mixed media artist with a particular interest in oil painting. She loves to scuba dive, spending as much time in or around the water as possible.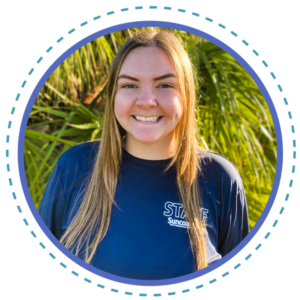 JULIE ALBERTS
education specialist
Julie loves all things marine science! She has a particular interest in shark and ray ecology, which were the topics of her master's thesis. Julie earned her MS in Marine Conservation from the University of Miami and her BS in Environmental Science from Florida State University. She feels that outdoor education for youth is the perfect way for her to share her passion of conservation with those who will make a difference in the future. When she's not working, Julie enjoys scuba diving, watching hockey, and going to the movies. She is so excited to be at Suncoast spending each day doing what she loves.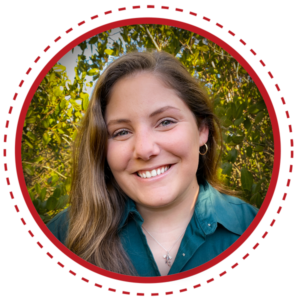 JACQUELINE VANEYK
education specialist
Jacqueline has a love for all things marine science and conservation, especially sharks! She is a Tampa native but spent most of her childhood and free time in Weeki Wachee, Florida, where she found her love for nature. Jacqueline obtained her BS in Marine Biology from USF and plans on pursuing her masters in the future. Through working at SYCC, she has found a passion for sharing her knowledge of Florida's natural environment with the next generation. When she's not educating, Jacqueline enjoys scuba diving, spearfishing, and watching nature documentaries. Once she started working at the Suncoast in 2021 as a summer camp counselor, she couldn't imagine working anywhere else and has since joined the team year-round.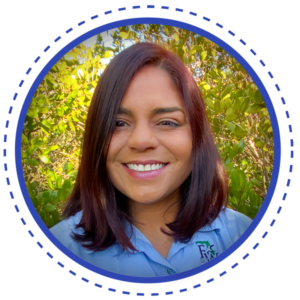 YATSKA VALENTIN
education specialist
Yatska Valentin was born in Puerto Rico into a family of teachers, which helped her develop an appetite and curiosity for science and research from a very early age. Her frequent visits to El Yunque rainforest, the salt flats and mangroves in her hometown, helped her develop a unique relationship with her surroundings. She holds a BS in Environmental Sciences from UMET in Puerto Rico and a MS in Environmental Education from Nova Southeastern University in Florida. In her spare time, she likes to explore all of Tampa Bay and its surroundings with her family. For solo adventures, Yatska likes to hike and tend to her ever-growing backyard pollinator garden. Yatska served as a park ranger for Florida's award-winning parks for several years and is very excited to be the latest addition to the Suncoast YCC staff. She looks forward to assisting with bilingual conservation education needs and welcoming students and families that are ready to learn and get up close with nature.
Interested in volunteering at Suncoast Youth Conservation Center?
Please
click here
to view our volunteer opportunities page.
Take a Photo Tour of the Suncoast Facility
6,000 sq. ft. facility situated on 20 acres of wetland habitat known as the Center for Conservation campus
Close vicinity to Manatee Viewing Center
Available for summer camp and field trips:

Indoor and outdoor classrooms
Wheelchair-accessible fishing pier
Mangrove trails for fishing and paddle sports
Shoreline for fishing
Onsite restrooms and bus parking available for arranged visits

Planning for a great day at Suncoast Youth Conservation Center: Campers and visitors should dress in "play clothes" and closed-toed shoes that will get wet and dirty. Please pack a bagged lunch and reusable water bottle, and be sure to send or apply sunscreen and insect repellent.
Help keep SYCC accessible for both humans and wildlife! The campus of the Florida Conservation & Technology Center is an important habitat for many types of wildlife and is visited by thousands of people each year. Please remember that all plant and animal life at Suncoast are protected, and that visitors may not pick plants, create new trails through the vegetation, or chase or harass wildlife. The only animals allowed on the Suncoast property are service animals.