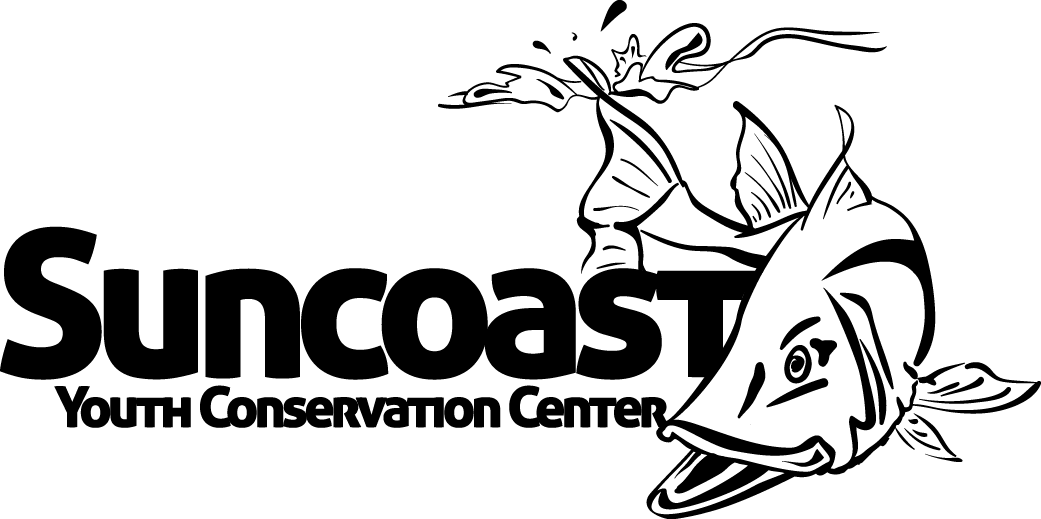 The Florida Fish & Wildlife Conservation Commission (FWC), in partnership with the Tampa Electric Company and The Florida Aquarium, presents Suncoast Youth Conservation Center (SYCC), located in sunny Apollo Beach. The 6,000 square foot building offers indoor and outdoor classroom space on a 20-acre campus and is the educational hub for the Florida Conservation and Technology Center. We provide exciting learning opportunities for youth and families while they participate in recreational outdoor activities along the eastern shore of Tampa Bay.
Field Trips
Field trip opportunities for students in grades 3 through 12 provide fishing opportunities and paddling excursions through the mangroves of Newman Branch Creek and into Tampa Bay along with marine and coastal education programs focused on science-based natural resource management. These hands-on, marine science education lessons are woven into each recreational skill that students will learn, along with stewardship behaviors and conservation literacy concepts. All lessons meet Florida's Sunshine State standards and are available during the school year. All programs are available to teachers and students free of charge, but schools must provide their own transportation. More information about field trips can be found here:
Summer Camp
Suncoast Youth Conservation Center also hosts fun-filled week-long day camps for kids in grades 3-11. These day camps showcase Tampa Bay and the science and research being conducted in the area through marine science camps, outdoor recreation, hiking, paddling, and much more! SYCC has grown in popularity so much over the last few years that summers are often entirely booked within a few days of registration opening, so if you're interested in enrolling your child this summer, be ready to register February 1st.Read more about SYCC summer camp here.

Family Programs
Suncoast Youth Conservation Center runs bi-annual family weekends for kayaking and fishing programs. These weekends are advertised via email. If you would like to be added to our email list, please send an email to suncoast@myfwc.com.

Volunteer with Us!
Need to work on your volunteer hours for school, or maybe just want to pay it forward? Suncoast Youth Conservation Center is always in need of volunteers, both skilled and beginners! Check out our
volunteer page here
and fill out the contact form to get started.
Interagency Training
FWC divisions and offices can use the space at SYCC to host meetings and trainings. These dates must be booked in advance as our calendar fills quickly. In order to reserve a date, please contact suncoast@myfwc.com.
* * * * * * * * * * * * * * * * * *
We hope to inspire visitors of all ages with experiences that lead to a lifelong delight in nature and an understanding of the importance of conservation. Perhaps you will choose to come and enjoy the kayaking, hiking trails, boardwalks, wildlife observation tower, and fishing activities that are planned for our center as we strive to enhance the connection to nature for youth and their families. Let's get back to basics on the eastern shore of Tampa Bay and plan a visit soon!
Associated Agency:
Florida Fish and Wildlife Conservation Commission