2016 Summer Camp Registration Opens January 15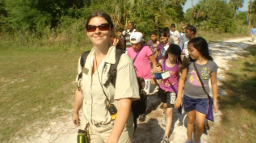 The EYCC fosters awareness, appreciation and concern for Florida's wildlife and environment through outdoor recreation and conservation education in a residential setting. All of our programs focus on conservation issues relating to South Florida. Staff must be available to work from June 5th to August 5th. Some staff will have training sessions during the month of May. Staff is provided a competitive salary, housing and meals for the whole camp period.
The positions available are listed below. Each position requires a specific amount of training and development. Please indicate on your application which position(s) best suits your skills and interest level. If you wish to apply for a position for which you do not have the certification for, please contact Summer Camp Coordinator at (561) 624-6929 to discuss possible training courses available prior to camp.
A minimum age requirement of 18 is necessary for ALL staff positions. Staff must be available to work from June 5th to August 5th. Instructors and Support Staff must be able to do some training in May.
| Position | Description / Special Certifications |
| --- | --- |
| Group Leaders | Assists ½ day, facilitates evening programs, supervises campers in cabins |
| Medical Director | Provides medical care to all campers, Leadership Campers and staff/Must be an RN |
| Custodian | Cleans bathrooms, and dining hall, grounds maintenance, and repair work around camp |
| Cooks | Prepares all meals, cleans and maintains kitchen to standards, orders food/ must be SafeFood Certified |
| Dishwasher | Assists in the kitchen with cleaning and washing of dishes. |
| Camp Assistant | Answers phone, maintains camp store, puts together camp memory book for campers |
| Mariners | Marine Ecology Program – Must be at least 21 yrs old with a clean driver's license |
| Leadership Camp Supervisor | Supervises the Leadership Campers (high school) volunteer program, assigns duties, provides training |
| Activities Assistant | Help Instructors get materials ready for programs, assists with away programs, assists with camp safety (Driving required) |
| Head Group Leader | Oversees evening programs, supervises group leaders, assists with afternoon activities |
| Wildlife Adventurer Instructor | Provides conservation education instruction to 3rd – 5th graders |
| Eco-Equestrian Instructor | Supervises horseback-riding program off-site for 3rd – 5th graders (Driving Required) |
| Trail Blazers Instructor | Provides conservation education instruction for 6th-7th graders with one overnight tent experience |
| Seafarers Instructor | Provides kayak, canoe, and paddleboard instruction to 6th – 8th graders/Level 1 Kayak Instructor with skills training in canoeing and paddle boarding |
| Pathfinders Instructor | Provides hunter safety instruction to 6th and 7th graders/Must be Hunter Safety Instructor |
| Anglers Instructor | Implements fishing program to 4th and 5th graders |
| Explorers Instructor | Provides conservation education instruction to 8th graders with two nights of tent camping |
| Rangers Instructor | Implements advanced shooting sports program for 8th graders/Level 1 USA Archery Instructor and NRA instructor certified for rifle and shotgun. |
| Mariners Instructor | Implements marine program with 8th graders off-site/ Must be 21 years old, Lifeguard certified, and Level 1 Kayak Instructor (Driving Required) |
| Lifeguard | Supervises swimming and waterfront for all ages/Lifeguard certification |
| Canoe/Kayak Instructor | Provides basic skills training for kayaks and canoes to all ages/ Level 1 Kayak Instructor with canoe skills training |
| Fishing/Sports Instructor | Provides fishing and sport opportunities to all ages |
| Archery Instructor | Provides archery instruction to all ages / Level 1 USA Archery certified |
| Range Master | Oversees archery and shooting range for all ages/ Level 1 Archery certified and NRA instructor certified for rifle and shotgun |
GROUP LEADERS / CABIN COUNSELORS: 20 POSITIONS AVAILABLE
Group leaders assist instructors during the day and stay with campers in the cabins at night. Must facilitate evening activities and manage group through the night. Group leaders provide a vital role in monitoring the campers at all times and providing the cohesive structure to a camper's experience. Group leaders are housed with up to 16 campers and 2 Leadership Campers (high school students).
2014 STAFF TRAINING
Mandatory All Staff Training: June 5 – 10, 2015
Instructors and support staff will be scheduled in May for two to three days of training specific to the programs you are facilitating.
FORMS (Requires Adobe Reader)
All 2016 Staff Application forms must be filled out and returned together. If you have any questions concerning the programs please email the education coordinator at Janice.kerber@myfwc.com.
Please return staff applications to:
Summer Camp Coordinator
Everglades Youth Conservation Camp
12100 Seminole Pratt Whitney Road
West Palm Beach, FL 33412