Today's children are increasingly disconnected from nature. They devote nearly eight hours a day to entertainment media and "media multi-tasking," while the number who spend time hunting and fishing continues to decline dramatically. This is a problem because we know that kids who do not directly engage in the outdoors are less likely to develop a strong stewardship ethic for conserving America's wildlife. To put it plainly, if they do not make the connection, they are not going to be concerned about the wild outdoors that our generation has protected.
Creating the Next Generation that Cares!TM
We have to develop breakthrough approaches for understanding and overcoming the barriers to youth participation in traditional outdoor activities. Then we have to create destinations that are magnets for our young people. In other words, make them want to go outside. The Wildlife Foundation of Florida and the Florida Fish and Wildlife Commission (FWC) have created a bold new program, the Florida Youth Conservation Centers Network (FYCCN) that will do just that.
Hub and Spoke Design Model
FYCCN is a statewide network that employs a "Hub and Spoke" design model. The Hubs are Wild Outdoor Centers located within a 45-minute drive of major urban areas that provide deep woods experiences. The spokes are Near Outdoor Centers that offer outdoor experiences that are closest to children in their day-to-day setting. Through effective partnering with schools, communities, youth organizations, volunteers, land owners, and donors, we "connect the dots" between our partner programs in the Near Outdoors programs and the Wild Outdoors centers to enrich and expand participants' understanding of conservation and natural Florida.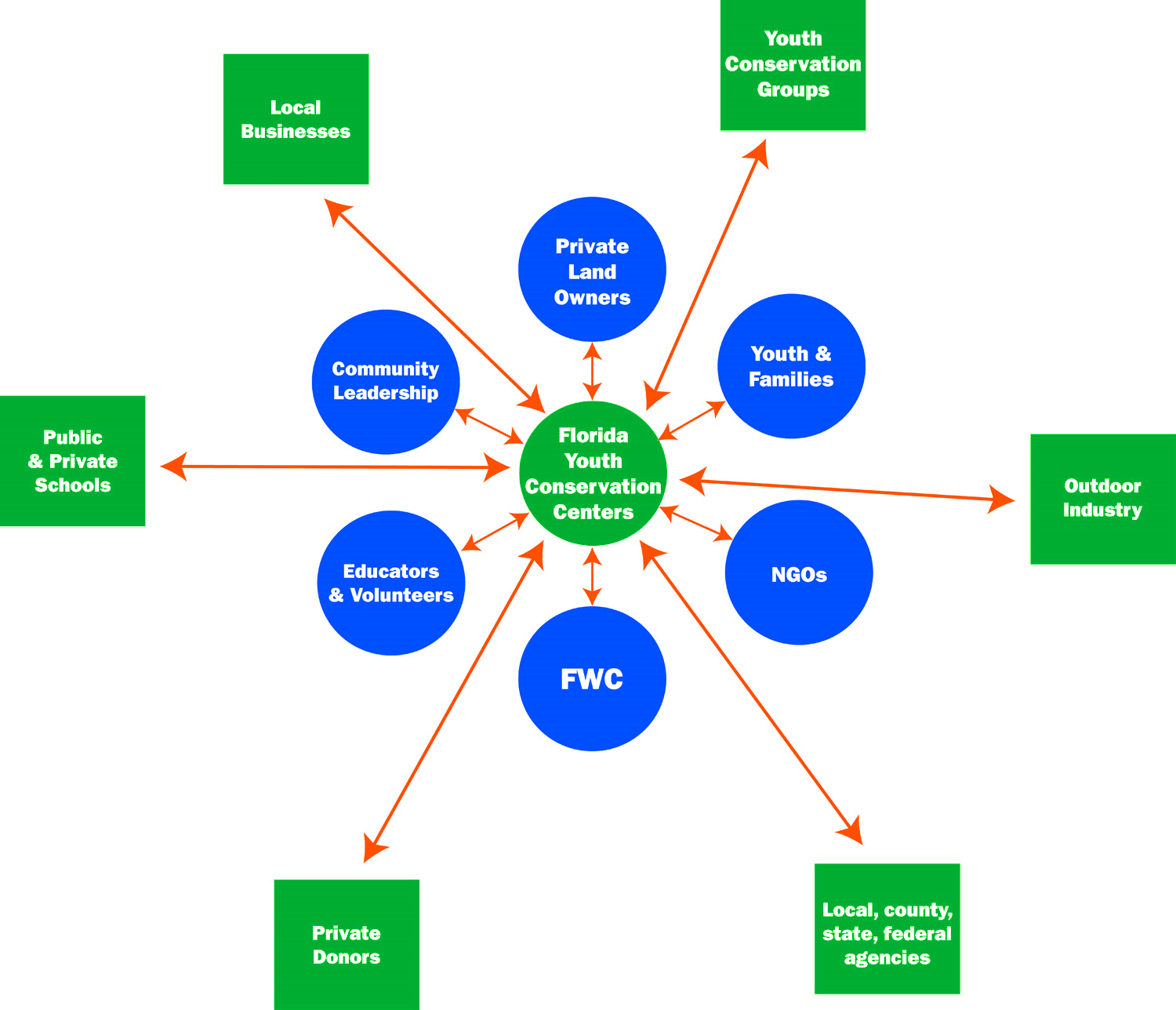 The Hub and Spoke Model includes all the critical stakeholders. These stakeholders will remain necessary for successful and sustained expansion of the Network.
Educators and Volunteers
Youth outreach depends on dedicated volunteers. Florida is blessed with experienced outdoor men and women who have freely provided their time, talent and energy to educate youth in the outdoors. They have put the FYCCN on the map. Now, it is time for the FWC to step up its commitment to support the efforts of volunteers by expanding access to world- class facilities, well-run centers, superior youth programming, and training materials to support their efforts. Enhancing the quality of resources and facilities available will also increase the volunteer base. In all the stakeholder meetings, volunteers have indicated they are committed to the Florida Youth Conservation Center Network and hope to see an enhanced commitment level by the FWC toward youth outreach.
Community Leadership
Local community support for Florida Youth Conservation Centers greatly enhances resource coordination and facility utilization. Centers must be an extension of the communities they serve. They must be viewed as having a positive impact on young lives and improving family bonds to the outdoors. FYCCN plans call for continued coordination with the communities near the centers, and urban communities within 45-minutes of the centers. Reaching out to the city and county parks and recreation departments, the school systems, and the professionals within non-profits and government agencies remain a focus of partnership efforts. Additionally, the FYCCN envisions ongoing support and involvement from elected officials in the communities we hope to serve.
Non-governmental Organization (NGO)
FWC has a traditional base of conservation groups that provide extraordinary resource support for ongoing youth conservation activities, including the FYCCN. Many of these groups are involved through Get Outdoors Florida! In addition to honoring the efforts of existing non-profit groups, the FYCCN has engaged new, like-minded, organizations in a bold effort to dramatically increase the numbers of children and families reached. All NGOs with missions help to serve youth develop healthy lifestyles, or to introduce youth to the outdoors encouraged to become fully engaged within The Network. Reaching non- traditional outdoors families will require new partnerships in urban settings. Near Outdoors NGOs help us link kids and families to the Wild Outdoors. These linkages require that significant resources be made available to support the NGO efforts in the current Near Outdoors Centers, and those that will be necessary as the FYCCN expands.
Families
Families that directly engage in traditional outdoor activities have been very important in the FYCCN start-up, and we need their continued support. We have to have their help to reach disengaged families headed by parents who do not understand the outdoors and are not raising children to appreciate and participate in traditional outdoor activities. This has led to the loss of almost an entire generation of outdoorsmen and women, and created a conservation void in Florida.
Getting our message through to these disengaged families will require research on existing attitudes and barriers regarding participation in the outdoors. It will require creation of new marketing, communication and educational efforts. More programs designed to specifically reach and address family needs and concerns must be created. Increased participation will greatly enhance our ability to ensure kids throughout Florida get exposure to the Wild Outdoors.
Fish and Wildlife Agencies
The Foundation and FWC have worked cooperatively with other state, local and federal agencies to coordinate joint efforts, available lands, and programmatic funding for youth. Cooperative land agreements, infrastructure support, political support and pooling of funding for these efforts have maximized available resources, and will continue to do so as we expand.
The Foundation is expert at creating win-win partnerships that leverage the strengths of each partner and ensure maximum bang for the donor and taxpayer dollar. Many of these partners are already linked to FWC and the Foundation through the Get Outdoors Florida! Coalition. Tying in those efforts with the hub and spoke network of facilities created a smooth, integrated approach to connecting children and families to Wild Outdoors through active nature-based recreation.
Private Land Holders
Beau Turner has taken the lead in demonstrating the important role that private landowners will play in addressing nature deficit disorder in Florida's youth. Private lands will continue to play an important role for engaging our youth in the Wild Outdoors. Dr. Broussard in Holopaw, Florida, also stepped forward as a private landowner concerned with addressing youth in the outdoors. He has created Forever Florida, a 4,700-acre Youth Conservation Center offering a complete outdoor experience for youth. FYCCN envisions establishing additional links with private landowners that enable expanded outdoor opportunities for youth. Through this private/public partnership, we are able to create a liability umbrella that protects private landowners that participate in The Network. This limited liability protection ensures private properties will continue to be made available. Coordinating use of private lands will be a major focus of The Network over the next few years.
Near Outdoors/Wild Outdoors/Connect-the-Dots
It will be necessary for the FYCCN, with the help of all stakeholders, to connect the dots between the Near Outdoors and Wild Outdoors Centers.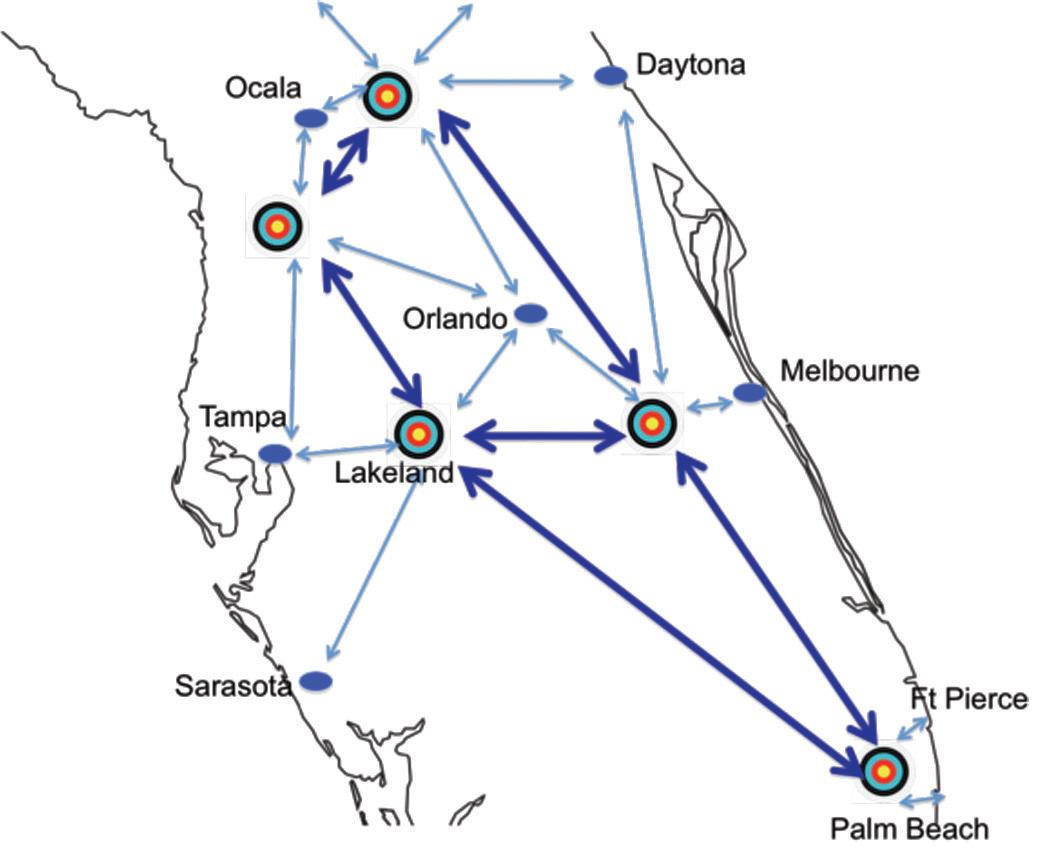 The "Wild Outdoors" experiences include traditional outdoor activities like fishing, canoeing, archery, and deep-woods orienteering. These are the kind of experiences offered at existing facilities such as the Ocala Youth Camp, and the Everglades Youth Camp. The main strategy for successful implementation of the Network is to connect the dots from the Near Outdoors programs offered by our urban partners to the Wild Outdoor Florida Youth Conservation Centers.
The "Near Outdoors" experiences include an urban fishing pond or pier, archery in the schools, a local birding competition, a habitat program being taught in the schools, to name a few. Partnering effectively with local, urban-based programs and assisting them in offering traditional outdoor pursuits connected with conservation is the key to successful implementation of this strategy. Connecting with existing, successful youth programs, school systems, clubs, churches, and youth-oriented groups interested in traditional outdoor pursuits and conservation provides instant access to kids.
The programs offered in the Near Outdoors and Wild Outdoors will vary by Youth Conservation Center and be based on the local demographics, the unique offerings at that Center, and the specific partnerships established with the surrounding communities.
It's that simple. The Plan merely needs to develop programs and partnerships, and then Connect-the-Dots between the Near Outdoors and the Wild Outdoors.
No FWC Youth Camp Left Behind
We faced many challenges in the creation of the FYCCN.
Raising the initial capital outlay
Conducting research to understand and address the existing negative perceptions of the outdoors held by youth and parents
Establishing quality Near Outdoor partnerships with successful programs around the state
Transporting youth to the Wild Outdoors sites
Producing a quality outdoor experience for youth and their families
Creating outdoor destinations and activities that will appeal to the widest spectrum of young people
Developing a simple, compelling blueprint for industry and private donor giving and participation
Aligning a public/private non-profit partnership of bold intent and statewide scope
Now, FYCNN must add more sites in order to serve the needs of all Florida's urban youth. Research has shown that the locations of Florida Youth Conservation Centers should be within a 45-minute drive of a major urban area that it will serve if they are to be fully utilized. Successful, existing youth conservation programs are looking for partners and facilities for linking to their ongoing program efforts.
Two existing youth camps help anchor this effort: Ocala Youth Camp in the Ocala National Forest and Everglades Youth Camp in Palm Beach County on the Corbett WMA. For years these properties have been the stalwarts of connecting kids and parents with conservation. Center maintenance has been neglected over the years and, if it were not for the dedicated volunteers, staff and stakeholders at each facility, they would not still be operational. The work to rejuvenate and upgrade these important sites has already begun. It represents an important commitment by the FYCCN, which seeks to preserve the legacy and heritage of each site. It is vital to Creating the Next Generation That Cares!
Work is under way and improvements are being made. The Florida Youth Conservation Center Network is a work in progress, and we need your help to continue the outstanding work of this innovative program. Please join us in creating the Next Generation that Cares. Together we can do it.
Overview of a Wild Outdoors Center
As expansion begins, FYCCN has created a core campus model for all Wild Outdoors Centers. We are seeking partner sites with a full range of Wild Outdoors activities and capabilities. We fully recognize that sites will NOT have every element indicated, but "completeness" of sites will be a major determinant in phase one partner selection.
Essential Programs and Activities
We have included a list of the essential program activities we are interested in promoting through this partnership. We recognize that not all programs will be available on all partner sites. Each partner site will offer a unique combination of programs, facilities, and infrastructure. The more complete the partnership proposal, the more likely the proposal will receive a higher funding priority rating.
Traditional Conservation Activities
Freshwater Fishing
Saltwater Fishing
Five Station Shotgun Range
Archery - Target and 3D
Archery Tower
Small Bore Rifle Range
Wildlife Viewing Areas, Programs, and Blinds
Kayaking and Canoeing
Overnight Camping (cabin, lodge or outdoors)
Motor Boating Access (and Boating Safety Programs)
Additional Outdoor Activities
Multi-purpose Wilderness Trails Available (hiking, wildlife viewing, horseback riding)
Multi-purpose Field (on site)
Water Access for Swimming, Paddling, and Safety Training
Ropes Course/Zip-line
Mountain Biking Trails
Others
Conservation Educational Components
Conservation Classroom Learning Center
Habitat Restoration Area
(Hands-on project work for youth)
Outdoor Pavilions (available for groups)
Wet laboratory for classroom science experiments
Existing Conservation Programs (ready for delivery, meeting Sunshine Standards)
Onsite Computer Lab for student use
Composting/Recycling Center
Greenhouse
Butterfly Garden
Animal viewing and Rehabilitation Center
Visitors Center with educational information
Discovery zones (outdoor learning areas) and Kiosks
Sustainable and Green Programs and Facilities
The following artist's renderings provide a generic concept of the core campus.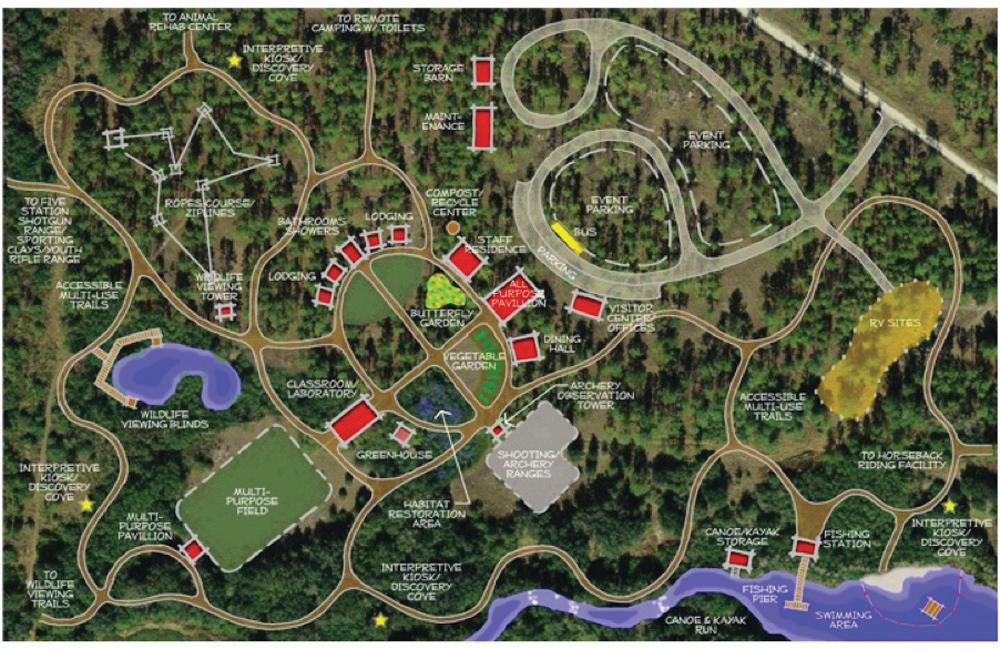 The campus concept is used to indicate that a Wild Outdoors location will offer a complete menu of activities.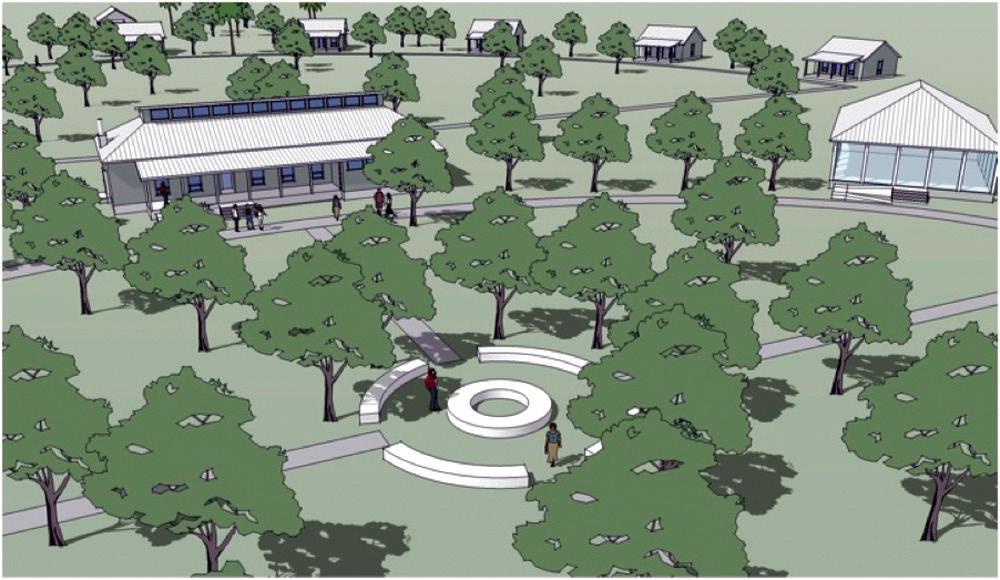 A classroom space with wet lab, internet connectivity and support for active learning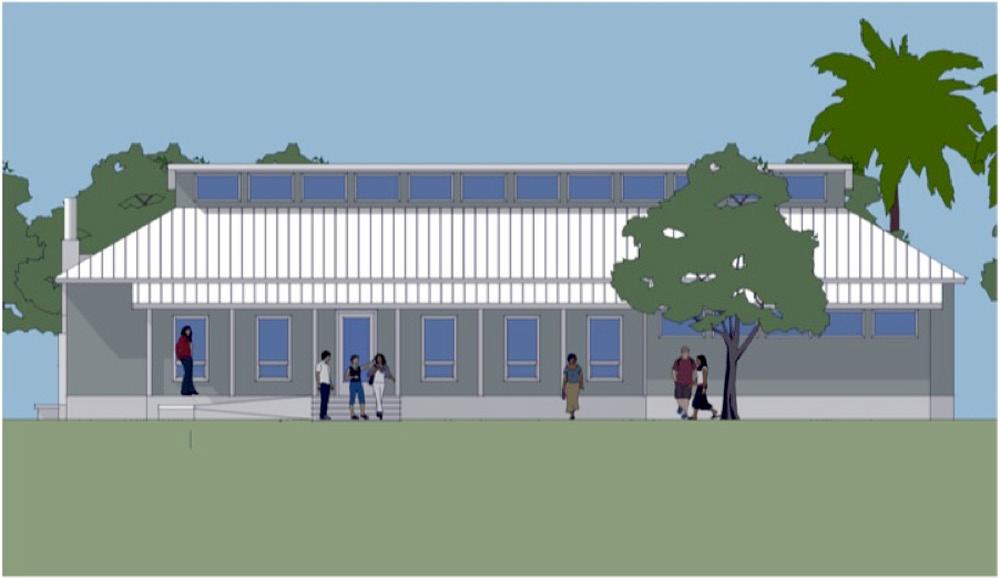 Cabins or other lodging accommodations for overnight visits are an important element.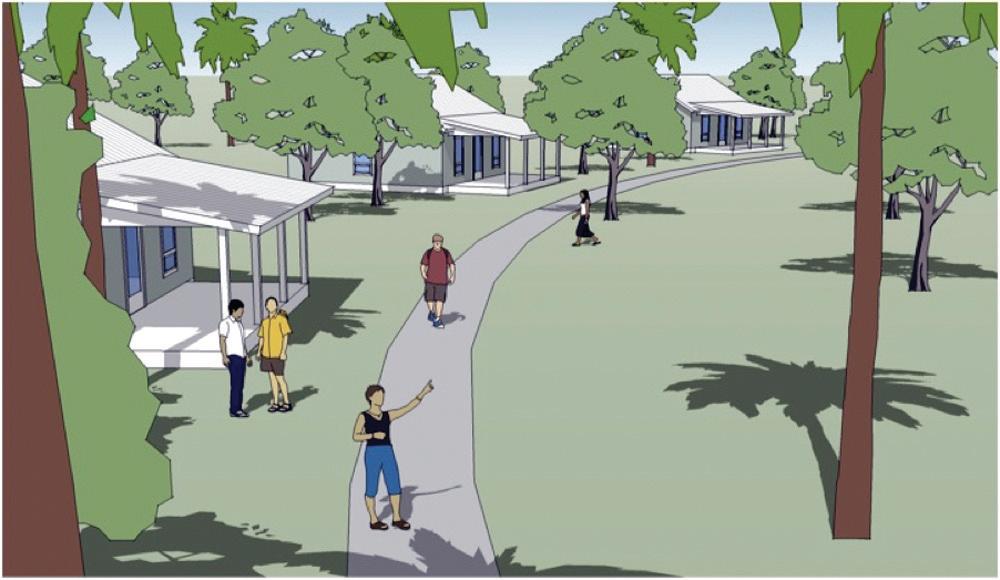 Pavilions and other outdoor classroom spaces are important for learning.