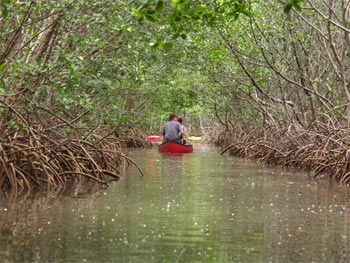 The Weedon Island Preserve consists of a variety of picturesque views and activities to discover as an entire family. With over four miles of paddling trails and 6,600 feet of ADA accessible boardwalk, which includes three separate observation platforms, anyone can get away from their urban environment within minutes from St. Petersburg and Tampa. The education center, fishing pier and kayaking opportunities create a full day's worth of activities to enjoy the Florida outdoors.
Weedon Island is a Pinellas County, FL project managed under the Pinellas County Extension Office. The education center exhibits the native plants and wildlife which exist on the island today. It also provides a background on Native American life and how cultures evolved through the years. Native Americans were experts in living off the land and water. The Weedon Island Preserve Cultural and Natural History Center shows how we can co-exist with wildlife and its habitat by comparing how they lived within this environment 1500 years ago.
We are pleased to announce that FYCCN will implement school field trips at Weedon Island Preserve on a regular basis. This is a very unique partnership between Pinellas County, FYCCN and Sensing Nature, LLC. Your students will have the opportunity to experience FYCCN components like Wildlife Viewing, kayaking and fishing! All school field trips are available Monday through Friday at Weedon Island Preserve and lead by the highly trained staff and volunteers of Sensing Nature and FYCCN.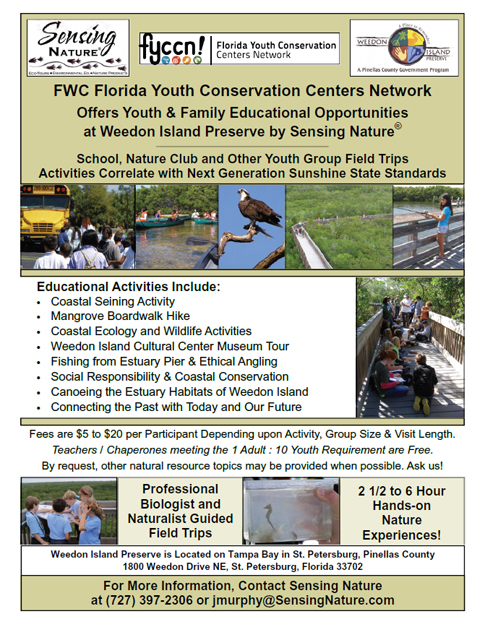 Come play and learn with FYCCN and Sensing Nature! We take the headache out of planning a field trip with a menu of options for your field trip experience. Menus are listed by group size. Once you've decided on how to spend your visit with us, simply fill out your group registration form below and send it to jmurphy@sensingnature.com.
FYCCN Field Trip Prices by Options_WIP 2014-2015.pdf
SN_FYCCN_Weedon Registration 10-19 Participants_2014-2015.pdf
SN_FYCCN_Weedon Registration 20-29 Participants_2014-2015.pdf
SN_FYCCN_Weedon Registration 30-plus Participants_2014-2015.pdf